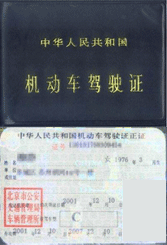 Foreign / Taiwan / Hongkong / Macao driving licenses and international driving licenses are not recognized for driving in China. Foreigners (and people from Taiwan, Hongkong and Macao) with residence permits can apply for a Chinese driver's license.
Applying for a Chinese driver's license in Beijing involves undergoing three proceedures:

• a simple medical checkup
• taking a computer-based theory test
• taking a road test (the road test is not necessary for those who have held a driving license from another country).

The driving license is valid for six years.
Our service
Our services are designed to take the problems out of applying for your drivers license. They include:
• Handling all paperwork including filling-out forms, having your your foreign driver's license translated and chopped by a translation firm.
• Making appointments for the theory test
• Providing study material
• Taking you to the theory test (additional service)

Medical Examination

Part of the medical examination form can only be filled out by a doctor after having given you a medical checkup. The checkup is just a basic physical (eg height, weight, sight test etc), and at most takes half an hour. Be sure to take the examination form with you when you go to the hospital. The doctor will fill-out the checkup portion and then sign it.
Note: For the application form checkup you are only allowed to go to the designated public hospitals (name list in Beijing).

Documents required for booking the test

For booking the theory test, you need to go to the Vehicle office in person or entrust somebody with doing that, with the following documents:
• Passport with valid visa
• Driver's license and the translated copy
• 4 one-inch photos ( must be color/white background as of November 1st, 2004 )
• Residence Permit
• Application form ( must be filled out in Chinese, the backside is the instructions, download the form here )
• Medical examination form ( take the form with you when going to the hospital, download the form here )

Test Preparation

The theory test focus on the current traffic regulations in China. It involves answering 100 multiple-choice or true/false questions randomly selected from a bank of hundreds of questions. 90 out of 100 will be required for passing the test. The test is taken on computer and is available in English, Chinese, French, German, Spanish, Japanese, and Korean languages.
About 300 of the official questions are publicly available and our English translation of these is available for purchase.

Where to go for taking the test and getting the Chinese Driver's License

1. Beijing
Vehicle Administration Office of Beijing PSB
Add: No.18 East Road, Shibalidian, Chaoyang District, Beijing
Tel: 86 10 87625150
Location Map

As the test is taken on computer, your results will be available immediately upon completion. Once you pass the test, you can pickup your Chinese driver's license in 5 working days.
For more information and help in expatriate affairs services please contact us at +0086-10-64632568 or send us an email.